Canatu presented CNT film heater technology at the Business of Automated Mobility (BAM) Forum
AUVSI and SAE hosted the first Business of Autonomous Mobility Forum on 23-24 June 2021 to help companies that are building the future of mobility to create an actionable roadmap to success. Automated mobility provides limitless opportunities and very real challenges. The forum focused on creating a path to profitability for companies in UAS and AV markets, discussing common operational issues facing the autonomy industry.
Vice President of Sales, Samuli Kohonen, presented on Canatu CNT film heaters for ADAS sensors.
ADAS is an essential safety feature of a modern car, and the average ADAS content per car is rising rapidly. But the performance of ADAS systems degrade in sub-optimal weather conditions. Heavy rain, thick fog or cold weather can have adverse effect on ADAS system performance. Camera and LiDAR sensors can get blocked by rain, snow or ice obstructing the sensor field of view. Accurate object detection and distance measurement is at risk. In worst case, the function is unavailable when the most needed. Thus, reliability in severe weather conditions may be the greatest constraint to wider ADAS adoption and fully autonomous driving.
CNB film heaters keep critical sensor surfaces clear from moisture and ice, enabling autonomous driving in any weather. CNB heaters are based on CNB film featuring record-high transparency to optical conductivity ratio and ultra-low haze. CNB heaters are entirely wire-free enabling maximum transmittance. Being a thin film heater, the whole surface is conductive, and therefore CNB heaters provide even heating across the entire surface. CNB heaters are also 3D formable for easy integration into any surface regardless of their shape and can cover a full field of view in 360° LiDAR and fish-eye camera sensors. Watch event recording above to explore more.
Contact Samuli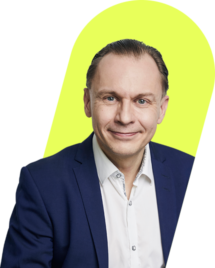 Send a message and we'll get back to you soon
About Canatu
Canatu is a carbon nanomaterial developer creating the most advanced carbon nanotubes for industry-transforming products. The Canatu carbon nanotube (CNT) technology has been created with a unique process that ensures the required versatility and reliability for highly engineered solutions. Canatu partners with forerunner companies, together transforming products for better tomorrows with nano carbon. The company's focus is in the automotive and semiconductor industries with the portfolio's core spanning from ADAS heaters to 3D touch sensors and to EUV membranes. The experts at Canatu think big and create impacts on the tiniest scale – nano solutions for massive impact. Canatu's headquarters are in Finland with sales offices also in the US, Japan and Taiwan.