Canatu presented the award-winning Origo Steering Wheel concept at the DVN Car Smart Interior Conference
CEO Juha Kokkonen presented the award-winning Origo Steering Wheel concept at the event. The new Origo Steering Wheel brings the smart device user experience (UX) to cars. The driver can manage all key functions purely with the thumbs without letting go of the steering wheel minimizing distractions and improving safety.
Canatu shapes surfaces into experiences by bringing touch on any 3D shape and surface. Innovative 3D touch sensors replace multiple mechanical controls, enabling sleek, light, and unobtrusive interiors. Transparency allows for customizable illuminated designs.
Due to tactile form-factor, Canatu 3D touch enables intuitive, eyes-free interaction with the key functions. 3D touch sensors are always within thumbs-reach enabling safe eyes-on-the-road controls. Canatu 3D touch improves safety by minimizing distracted driving. Instead of glancing at the centre information display, the driver can keep hands on the wheel and eyes on the road for increased driving safety.
Canatu CNT film and 2-layer sensors and 3D formed enabling intuitive UX, and injection moulded for robustness. Transparency allows for customizable backlighted designs.
The first DVN Interior Workshop was a live stream event and comprised a full-day conference and an exhibition. The event focused on new technologies for car interiors and mobility. Topics included new use cases for increasingly automated and connected vehicles, flexible interior and system perspective, seating, interior lighting, formerly passive surfaces becoming functional, HMI, design, and decoration.
Contact Juha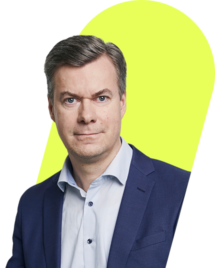 Send a message and we'll get back to you soon
About Canatu
Canatu is a carbon nanomaterial developer creating the most advanced carbon nanotubes for industry-transforming products. The Canatu carbon nanotube (CNT) technology has been created with a unique process that ensures the required versatility and reliability for highly engineered solutions. Canatu partners with forerunner companies, together transforming products for better tomorrows with nano carbon. The company's focus is in the automotive and semiconductor industries with the portfolio's core spanning from ADAS heaters to 3D touch sensors and to EUV membranes. The experts at Canatu think big and create impacts on the tiniest scale – nano solutions for massive impact. Canatu's headquarters are in Finland with sales offices also in the US, Japan and Taiwan.