Biosensors for medical diagnostics
Biosensors for clinical laboratory tests are crucial for diagnosis and patient management. They precisely measure drug concentrations, aiding healthcare professionals to provide optimal doses and diagnose overdoses. Emerging in vitro diagnostics and wearable technologies, based on the proprietary Canatu CNT material and dry deposition process, have the potential to transform the medical diagnostics industry.
Canatu CNT electrodes offer highly repeatable electrochemical transducer platform for biosensor development. This platform can be adapted for specific immobilization protocols, ensuring high sensitivity for select redox reporters, thus enhancing biosensor performance.
Biosensors using Canatu CNT's offer:
High electrical conductivity and surface area
High sensitivity and signal-to-noise ratio
Proven scalability of production process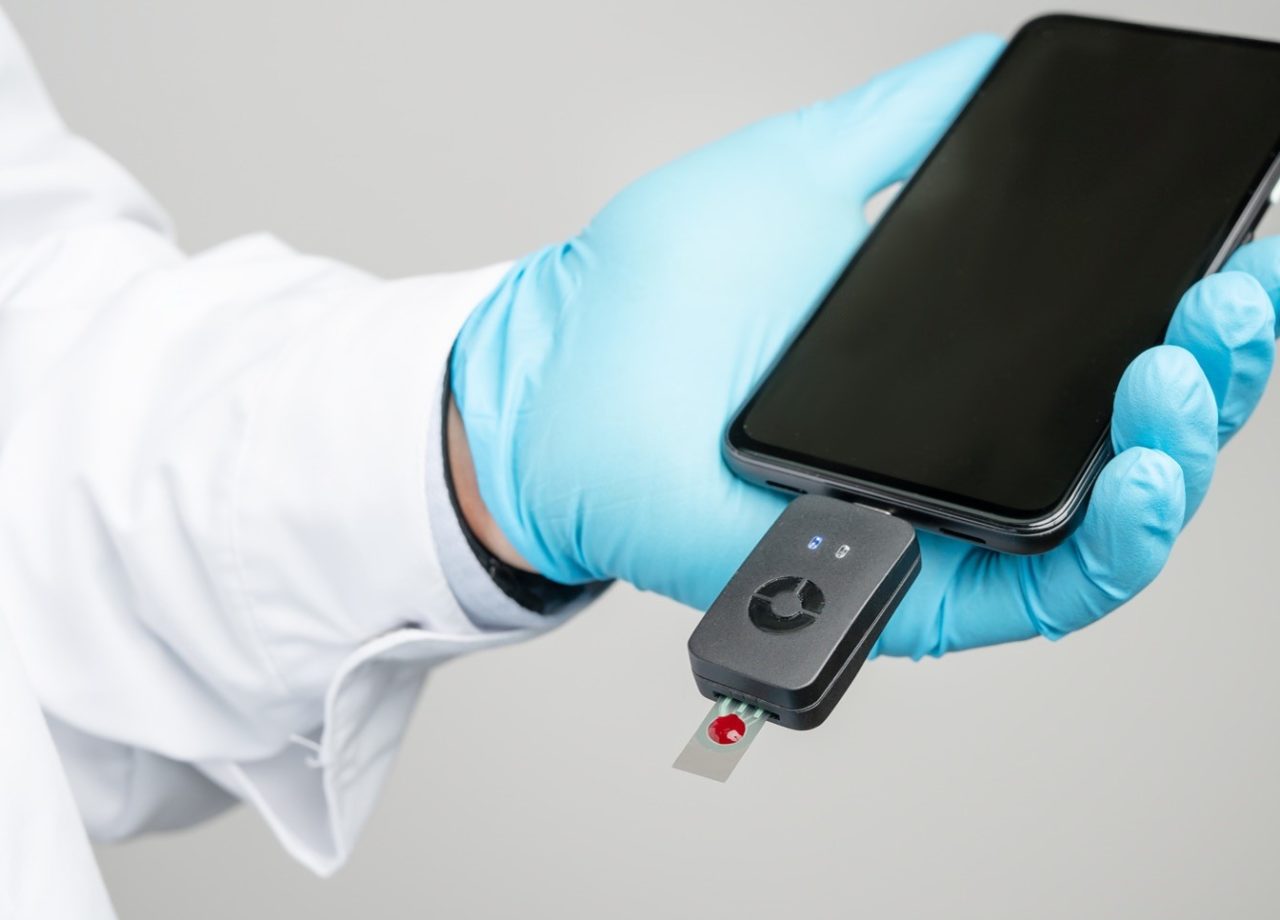 Electrochemical sensors
Canatu has developed a point-of-use assay for quantitative detection of paracetamol in finger-prick blood samples. This assay uses disposable test strips based on the Canatu CNT point-of-use sensing platform. The inherently large surface area, high conductivity, and tailorable surface chemistry, makes Canatu CNT films an ideal electrode material for electrochemical sensors.
See product
Lab on a strip
Opioid misuse and access to care continue to be key challenges. Painkillers are some of the most misused drugs. Every year, 15 million people misuse opioids in the EU and US, and more than 68,000 people in US alone die from opioid-involved overdoses. The economic cost of opioid crisis is 78,5 billion dollars annually in US.
Currently, there are no fast and reliable means for measuring opioid concentrations at the point of use. Simpler and inexpensive lab-level tests with rapid results are needed, to equip on-site caregivers with better means to determine best patient care. Accurate and safe dosing of opioids is critical for safe patient care; to relieve pain effectively, to prevent dependency and to prevent lethal overdoses.
Canatu's solution brings the medical laboratory anywhere, making sure saving lives is no longer about cost of care or lack of information.
Saving lives is no longer about cost of care or lack of information.
A market survey carried out by Canatu revealed that almost 70% of health care professionals would use rapid opioid sensors if they were approved for use by regulatory authorities.
Canatu advances point-of-use sensors for rapid medical diagnostics with forerunner companies, research partners and a leading Finnish University Hospital, together transforming products for better tomorrows with nano carbon.
See video
Measuring painkiller concentrations
Canatu has been developing electrode strips for point-of-use measurements of concentrations of painkillers for more than 4 years together with leading Finnish universities and Helsinki University Hospital. In this collaboration, test strips for the quantitative detection painkillers, such as paracetamol and opioids, have been developed. These painkillers are widely misused and are common causes of poisoning.
The developed test strips are based on highly sensitive and repeatable Canatu CNT electrode platform featuring high signal-to-noise ratio. These test strips are currently being validated in three early clinical studies with clinical validation of a test strip for measuring the paracetamol (acetaminophen) concentrations from small finger-prick blood. Soon, this could facilitate the diagnosis and treatment of paracetamol poisoning.
Canatu continues to develop test strips for measuring opioid levels in blood samples for diagnosing opioid overdoses and facilitating personalized pain treatment.
Contact our specialist in medical diagnostics