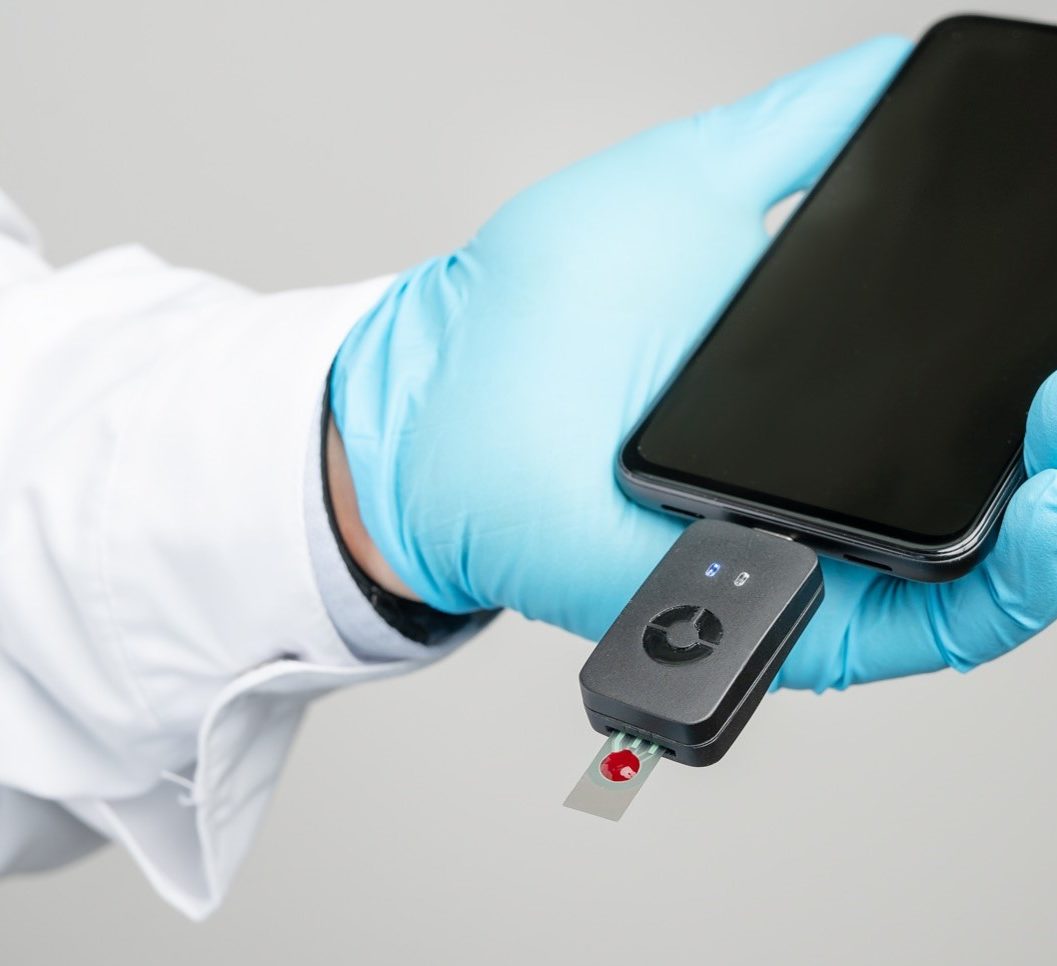 Electrochemical sensors
Electrochemical sensors using Canatu CNT provide portable, affordable and easy to use method for point-of-care clinical analyses, and feature high sensitivity with unparalleled signal-to-noise ratio.
Unique structural and catalytic properties
The inherently large specific surface area, high conductivity, and tailorable surface chemistry makes Canatu CNT films an ideal electrode material for biosensor development. Canatu's unique dry deposition method enables mass production of highly repeatable CNT films with large electrochemically active surface area and high signal-to-noise ratio.
These high purity CNT films can be controllably functionalized to allow for a wide range of chemical modifications and immobilization chemistries while preserving the high sensitivity.
Electrochemical sensors using Canatu CNT's offer:
high electrical conductivity and surface area
high sensitivity and signal-to-noise ratio
highly repeatable electrode platform
proven scalability of production process
See video
Measuring painkiller concentrations
in close to real time
Canatu has been developing electrode strips for point-of-care measurements of concentrations of painkillers for more than 4 years together with leading Finnish universities and Helsinki University Hospital. In this collaboration, test strips for the quantitative detection painkillers, such as paracetamol and opioids, have been developed. These painkillers are widely misused and are common causes of poisoning.
The developed test strips are based on highly sensitive and repeatable Canatu CNT electrode platform featuring high signal-to-noise ratio. Combining this electrode platform with e.g. the technology of the Aalto University spin-off company FEPOD Oy Ltd enables the direct measurement of low concentrations of drug molecules from untreated finger-prick blood samples at the point-of-care.
These test strips are currently being validated in three early clinical studies with clinical validation of a test strip for measuring the paracetamol (acetaminophen) concentrations from small finger-prick blood. Soon, this could facilitate the diagnosis and treatment of paracetamol poisoning.
Together with FEPOD, Canatu continues to develop test strips for measuring opioid levels in blood samples for diagnosing opioid overdoses and facilitating personalized pain treatment.
Contact our specialist in electrochemical sensors