Canatu and Webasto win Plug and Play Global Innovation Award at Startup Autobahn EXPO2023
VANTAA Finland, June 29, 2023 — Canatu have announced they, alongside automotive supplier Webasto has been named the winners of Plug & Play Global Global Innovation Award at the Startup Autobahn EXPO2023 held on June 22nd in Stuttgart, Germany. The Global Innovation Award recognizes their joint pilot project on integrating a Canatu film heater into the Webasto Roof Sensor Module (RSM), to ensure reliable LiDAR (Light Detection and Ranging) and camera sensor performance in harsh weather conditions.
"We are very excited to win the Plug & Play Global Innovation Award with Webasto. This honors the collaboration between Webasto and Canatu teams in integrating the Canatu film heater into the Webasto Roof Sensor Module. It is also a fantastic recognition for our LiDAR and camera heater unit, which enables superior optics, uniform heating, and low power consumption ensuring ADAS sensors to operate in harsh weather conditions"

Juha Kokkonen, CEO of Canatu.
The collaboration initiated in June 2021 with a focus on integrating a fixed Canatu film heater for ADAS deicing and anti-fogging into the Webasto Roof Sensor Module (RSM) to enable autonomous driving in harsh weather. It is imperative that the solution could be incorporated without any compromise to design integrity. The Canatu film heater fulfills these criteria, as it works with various sensors and can be seamlessly integrated into the RSM. Transparent and wire-free, the Canatu film heater provides fast, even, and power-efficient heating, without any optical distortion. By ensuring that ADAS sensors remain clear of snow, ice, and fog, the Canatu film heater enables safer autonomous driving in harsh weather.
"The cooperation has been open, fluent, and very collaborative. Together Canatu and Webasto will continue bringing the developed solution into further prototypes and vehicles with the ultimate goal of series production"

Magnus Sviberg, Director Special Products, Webasto Roof and Components SE
STARTUP AUTOBAHN is Europe's largest open innovation platform that connects tech startups with corporate business partners to work toward developing a production ready implementation. EXPO2023 was an invite-only event that attracted over 1500 guests who participated both in-person and virtually through live stream. The event brought together more than 35 tech startups presenting their collaboration results with over 30 corporate partners including Mercedes-Benz AG, Porsche AG, DXC Technology, Webasto Group, Schaeffler, Bosch, STMicroelectronics, Bridgestone Mobility solutions, NXP semiconductors and many more. The Global Innovation Award is presented to the best teams, based on collaboration, innovation, engineering, and functionality.

Learn more about our award winning project: https://shorturl.at/boAFP
Watch livestream recording of the award ceremony: https://lnkd.in/d-ZjRaaS
See pilot project presentation: https://lnkd.in/d2B2rBn3
See after movie: https://youtu.be/_-yJFm0DmcY?si=gjuSu07l2Q4YNBP6
Contact
Mari Makkonen
VP Marketing & Communications, Canatu
Tel. +358 504 422 343
mari.makkonen@canatu.com
Birgit Felske
Communications Manager / Spokeswoman
Roof and Thermo Topics
Tel. +49 (89) 8 57 94-51181
birgit.felske@webasto.com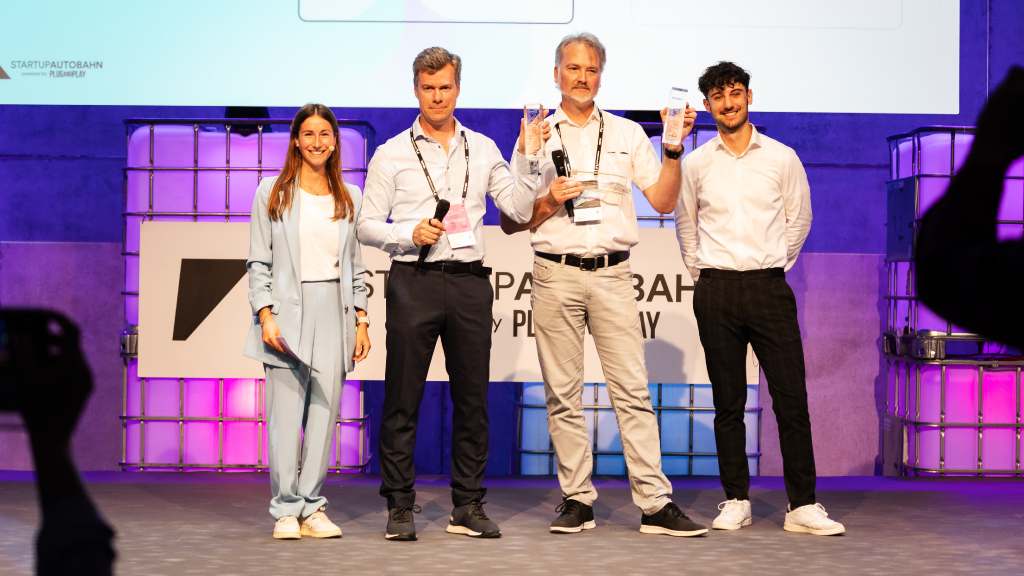 About Canatu
Canatu is a carbon nanomaterial developer creating the most advanced carbon nanotubes for industry-transforming products. The Canatu carbon nanotube (CNT) technology has been created with a unique process that ensures the required versatility and reliability for highly engineered solutions. Canatu partners with forerunner companies, together transforming products for better tomorrows with nano carbon. The company's focus is in the automotive and semiconductor industries with the portfolio's core spanning from ADAS heaters to 3D touch sensors and to EUV membranes. The experts at Canatu think big and create impacts on the tiniest scale – nano solutions for massive impact. Canatu's headquarters are in Finland with sales offices also in the US, Japan, and Taiwan. For more information, please visit www.canatu.com.
About Webasto
The Webasto Group is a global innovative systems partner to the mobility industry and one of the 100 largest suppliers to the automotive sector worldwide. The company's offering includes in-house developed roof, heating and cooling systems for various types of vehicles, batteries and charging solutions for hybrid and electric vehicles, and additional services related to thermal management and electromobility. Among the customers of Webasto are manufacturers of passenger cars, commercial vehicles, and boats, as well as dealers and end customers. In 2022, the Group generated sales of 4.4 billion euros and employed about 16,800 people at over 50 locations. The headquarters of the company, which was founded in 1901, is located in Stockdorf near Munich (Germany). For more information, please visit www.webasto-group.com