Canatu joined Nordic Deep Tech Business Summit
NORDEEP Nordic Deep Tech Business Summit was the first deep tech event in the Northern Europe focused on business development. The summit brought together over 600 startups / scaleups, researchers, investors, talents and corporate employees from all across the New Nordics on October 11-12th, 2022 in Espoo, Finland. Canatu CEO Juha Kokkonen joined the panel on "Enabling Future Business Opportunities" to share his experiences in scaling the next breakthrough material, the Canatu CNT.
What is deep tech?
Wondering what deep tech actually means?
Deep tech refers to growth companies whose business is based on breakthroughs in science, and which can offer unique and disruptive solutions to global problems.
Deep tech includes such innovations as creating totally new materials – all the way from atomic level – through delivering scalable solutions.
Jan Ameri, Executive Chairman at ArcticStartup on the main reasons for organizing the event: "Humanity is facing many big challenges, be it a global pandemic, food shortages, energy crisis or climate change. We need solutions, big solutions. These solutions typically originate from the heavy investments into science and research, in which Nordics excels on a global level. The challenge we face is that of how we get those new innovations out to the market faster, as we don't want important discoveries getting stuck on shelves of research centers. We need more deep tech startups to be born and supported on their growth path to success, to change the world."
Leveraging key enabling technologies
At the event, Canatu CEO Juha Kokkonen participated in a panel on "Enabling Future Business Opportunities" moderated by Emily Meads, Associate at Speedinvest. Other speakers were Juha Salmela, Co-founder and Chief Technology Officer at Spinnova, Jan Goetz, Co-founder and CEO of IQM Quantum Computers.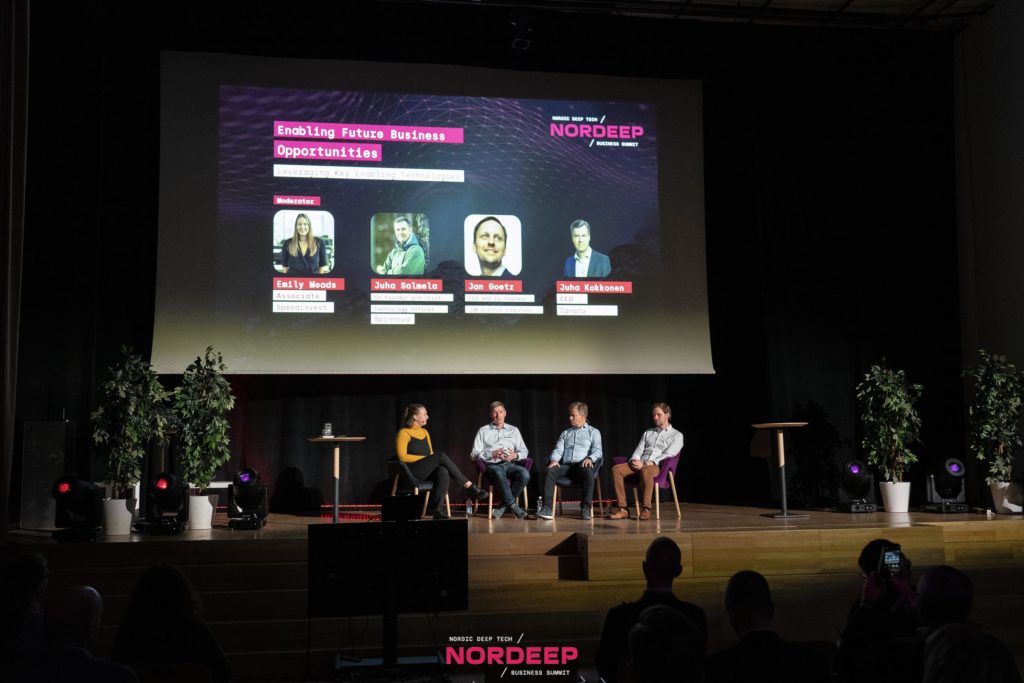 Juha Kokkonen underlined the importance of working side-by-side with big industrial partners when turning research into a company. He shared how Canatu had changed its strategy to focus on transparent film heaters enabling ADAS in any weather. To capture that market, Canatu needed a business partner – not only for the money, but to gain deep industry knowledge and to co-develop the core technology, products, cost position and business; concluding the strategic partnership has been extremely successful and Canatu is now ready for scale up.
Another key point Juha Kokkonen made was to consider the degree of exclusivity under intellectual property rights. Since the beginning, Canatu has focused on creating IP. Owning the core IP has given Canatu the freedom to operate and exploit the intellectual property with other customers and expand into entirely new domains. Spinnova's Juha Salmela reinforced the message by stating "without IP we would have nothing."
The panelists also talked about capitalizing on big global trends – looking at where the world is going, and finding where one can play a part. Kokkonen explained how Canatu had chosen to focus on the fast-growing automotive ADAS and semiconductor industries, stating "if you have good products, good things will happen."
Sometimes, success is based on pure luck. The luck came into play where the search done by a world-class research institute operating in the semiconductor industry discovered the potential of Canatu CNT for an emerging nanoparticle filtering application which was becoming a requirement in high-volume production of chips in extreme ultraviolet (EUV) lithography. Despite limited understanding of the EUV at the time, Canatu soon realized it will be a key enabling technology, and that Canatu CNT can play a critical part in taking semiconductors to a smaller scale. Few years later, the development was soon accelerated as two major industry players reached out to Canatu seeking to collaborate on further development of the products. In 2021, the semiconductor business accounted for 58% of sales.
"We would have never known our material is perfect for the EUV applications without the research institute who found us, and the industrial partners who educated us on what the products should do."

Juha Kokkonen, CEO at Canatu.
Timing was also seen a key to success; seizing the momentum and having enough speed to accelerate development and bring products to markets at the right time. Kokkonen explained how Canatu had matured from its startup origins to a leader in advanced CNT, eventually reaching its product-market fit. In the early days it was more about a solution looking for a problem; the research team had invented an entirely new material and its manufacturing method, and thinking what to do with it. Kokkonen mentioned that "EUV came just a few years ago. We could not have done it earlier. And now it's our biggest business."
Additionally, more than any other sector, patience was also seen an essential attribute for a deep tech investment. Turning deep tech research into business usually takes much longer than expected, so the panelists felt important to have patient venture who look at things in the longer term rather than pushing too much for quick results.
Finally, building a strong team was seen as a big success factor for any deep tech startup and scaleup. As Spinnova's Salmela put it: "Having good minds on all levels is a key when dealing with high uncertainty of the future to make sound decisions.
At the end, the panelists summarized the key factors enabling business success of science-based deep tech startups:
Creating value with big industrial partners
Finding patient investors with long term horizon
Waiting for the luck to come
Creating a story you can execute in the long run
Watch live stream of the panel
Contact